As Christmas approaches, swiftly followed by the New Year, we are always encouraged to take a moment or two to reflect on events of the year to date, our 2016. At the same time, as the period becomes increasingly commercialised, it is worth pondering for a moment what positive impact we can have on others. So this blog will highlight the top 5 stories about King's making a better campus and a better world, and with any luck inspire in us all some hope for 2017.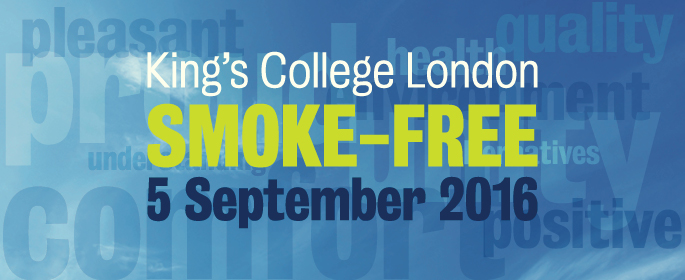 In fifth place is the change to a smoke free campus. It is great to see the university aligning its actions with its research, and the smoke free campus is a fine example of that. The health impacts of passive smoking are well known, so freeing non-smokers from those impacts while on campus is a very positive step in the right direction.
In fourth place is the Entrepreneurship Institute's launch of the business accelerator, with 20 start-up companies provided with a host of support to grow their businesses. Changing business is crucial to changing the world, and with many large companies doing more 'green-washing' than real sustainability and ethical practice, disruptive and innovative ethical start-ups are vital to changing business-as-usual to business-for-good.
In third place is research that has reduced the need for fish in experiments. In a new study led by King's College London, researchers have validated a pioneering technique to recreate a freshwater gill system in the lab. This technique, published in the journal Nature Protocols, provides a more humane way to study the impacts of environmental hazards on freshwater fish, whilst reducing the number needed for experiments.
In second place is King's commitment to a new ethical investment policy, not only moving money in the university's endowment investment out of the most polluting and risky assets of coal and tar sands, but also committing positively to invest at least 15% of King's endowment in ethical and low carbon companies.
Pictures courtesy of The Pole Pole Foundation.
And in first place is one of the most recent events, the presentation of the Prince William Lifetime Award for Conservation to John Kahekwa, long-term partner on conservation research projects within the War Studies Department. John reminds us all what can be achieved with faith and perseverance, even in the face of extreme adversity. John setup the Pole Pole Foundation (Pole Pole means 'slowly' in Swahili) to work with communities to protect gorillas in eastern Democratic Republic of Congo. In spite of a war that engulfed the country and claimed the lives of 5 million people, John stuck to his work and helped keep the gorillas safe and aided communities to recover from the conflict.
I hope you've enjoyed the stories above and that they may have warmed you up inside a little as the Christmas chill sets in. Here's to the 2016 that has gone and the hope of an even better 2017 where we may all unite to move people and planet towards a better future.