Studying
There are a few peculiarities in the German university system that you will notice: at the end of classes the students knock on the desks, for example! The classes at Heidelberg start 15 minutes past the hour and finish 15 minutes before the time stated on your timetables, to allow staff and students to move between rooms.
The courses are very lecturer-dependent, so the same module varies greatly in content and intensity depending on who is teaching. Similarly, the assessment method also changes depending on who is teaching. Exams can be oral or written (mündiche/schriftliche Prüfungen), and vary greatly in length. The format of the exam and the date of the exam are usually organised very late in the semester at around one or two weeks before the exam actually takes place. You also have to register with your Dozent to take the exam. Normally (for Law, at least), there is a special 'Erasmusprüfung', which is easier than and different to the exams which the other students take, but sometimes you will take the same exam. You will have to tell the Dozent/in that you are an Erasmus student at the start of the semester. Sometimes, if you put 'Erasmus' at the top of your Klausur (written exam paper), it will be marked differently to the other papers, if you are taking the same exam as the home students.
A syllabus for a particular module isn't usually provided and sometimes it can be difficult to know what you have to learn. You really have to attend every lecture to ensure you don't miss anything because of this, as you are usually examined on a broad scope of material and it could be based on anything the lecturer has said.
Some lecturers (Dozenten) take attendance at lectures by passing around an Anwesenheitsliste. If they do this, they usually set a limit as to how many lectures you can miss before your ECTS credits/Leistungspunkte will no longer be available to you.
For Law, the method of choosing modules is very complicated, partly because there is no way of knowing what the syllabi are (therefore, what you will learn) and also because the courses vary so much depending on who is teaching them. It is a good idea to begin the semester by taking a very large number of modules and then dropping out of the ones you no longer wish to take, once the forms of examination/ levels of demand have become clearer. You will probably be taking many more modules at Heidelberg than you do at King's (for example, Law students normally take 4 in-depth modules per year – 2 semesters – at King's). In Heidelberg, you will probably take around 9 modules per individual semester. There is a catalogue which you can pick up (usually from a library or your department), which contains all the available modules on your course for you to choose from.
There are language courses on offer which are heavily discounted and usually very good. There is a semesterbegleitendes Deutschkurs (a German course during term-time) and a vorbereitendes Deutschkurs (a German course before the start of the semester). Sometimes, you are able to count the ECTS points from these language courses towards your overall year abroad, but you will need to check with your study abroad tutor at King's.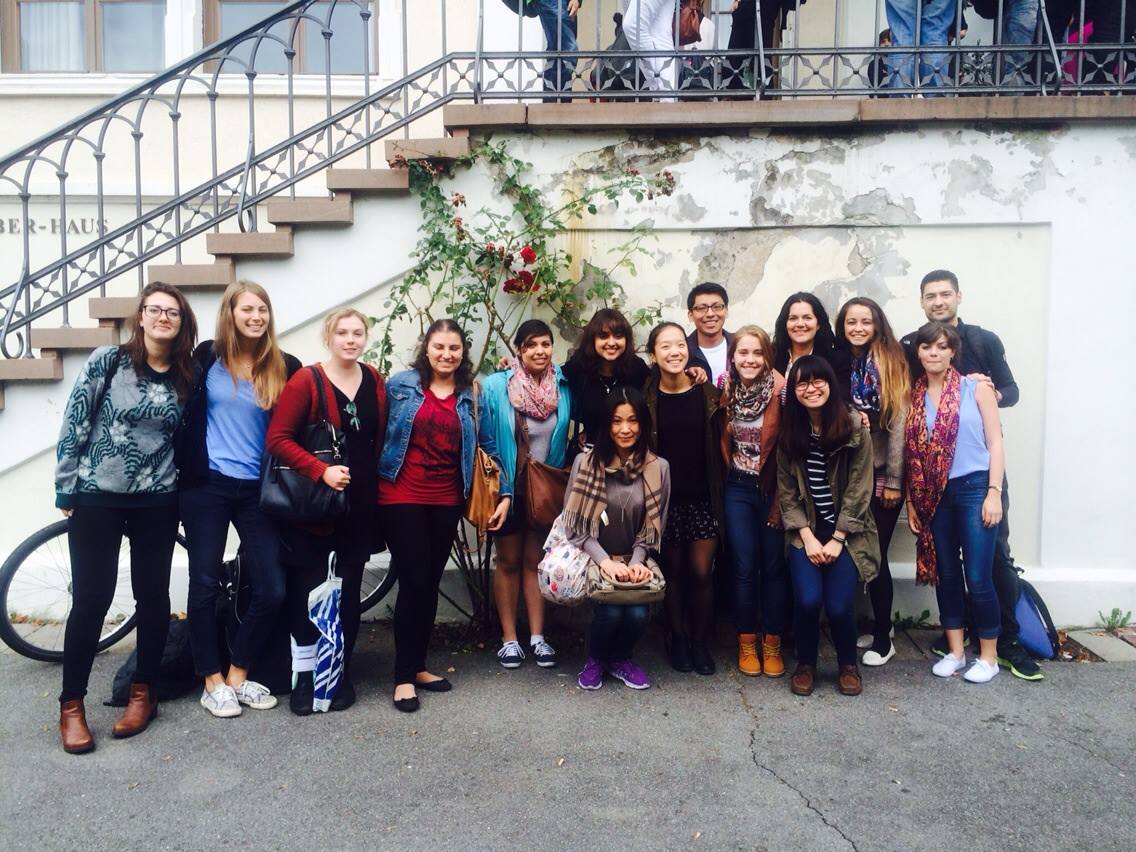 Accommodation
Accommodation Apply for halls as soon as possible – most German students don't live in university accommodation, so there aren't as many halls as you would expect to find in England. Erasmus and International students are given priority, but make sure to get your application in early. If you don't want to live in halls, you can find a flat-share, or Wohngemeinschaft (WG). The best places to find these are on WGgesucht.de, or other similar sites. Try and start looking for somewhere well in advance of moving in at the start of semester
Mensas Heidelberg has fantastic university cafeterias and there are several 'Mensas' across the town. For example, there is the Triplex Mensa, the Marstall Mensa and a Mensa in Neuenheimerfeld. You use your student card like a credit card and top it up with credit, which you use to pay for your food. You can also pay with cash, but if you do you won't be able to get your meal subsidised, so it will be more expensive. The cafeterias are open until late into the evening, serve alcohol and sometimes show sports matches on large projector screens. There are also a few parties, karaoke nights and other events, which are organised in the Mensas.
Pfand System When I first moved to Germany, I was very confused by the pfand system. Every time you buy a bottled drink, you pay slightly more than the actual price, but when the bottle is empty you take it to a recycling station (usually in large supermarkets). When you have returned your empty bottle, you get your deposit returned. You will also encounter the pfand system at various festivals and in some bars. For example, beer is sometimes served in wooden huts. You pay for your drink, and when you take your glass back to the bar, you will get your pfand back.
Shops It is useful to get an idea of where you can buy particular things because, whilst a lot of the shops on the Hauptstraße are international chains, when you need everyday items, it can be hard to know where to go. If you are looking for cosmetics or toiletries, DM and Müller are the places to go. Unlike in England, you cannot buy paracetamol and other pain killers in supermarkets or shops. Instead, you have to go to a specialist chemist, which displays a red 'A', the Apotheke sign, outside. The Apothekes are incredibly expensive: paracetamol and ibruprofen might cost as little as 40p in the UK, but may set you back around €4,00 in Germany. If you need electrical goods, Mediamarkt or Saturn are the best places to go. Supermarket-wise, Rewe (pronounced ray-vuh) is a nice, but upmarket, supermarket. Lidl, Aldi and Penny are other supermarkets which are a little cheaper. Finally, most shops don't have a student discount, unlike in the UK. Heidelberg is a very expensive town by German standards and a lot of shops cater for tourists, so head to Mannheim or Karlsruhe for a wider range of budget shops. Avoid walking down the Hauptstraße if you can, because it's incredibly busy. It is also illegal to cycle down the Hauptstraße, so don't do that!
If you need to buy homeware, there is an Ikea store in Walldorf, where you can buy things cheaply. Unfortunately, the shop is difficult to get to (of course, you might be able to get larger items delivered!). In the Altstadt it can be difficult to find shops that sell homeware, but Galeria Kaufhof (one at Bismarkplatz and one on the Hauptstraße) provide homeware. Galeria Kaufhof tends to be a little pricey, however.
Healthcare You should have an EHIC card, if you are an EU citizen, which you will need to present when you arrive in Germany in order to get an exemption from the compulsory German national insurance scheme. If you need an appointment with a doctor, phone up a specific doctors practice in advance. If you need a doctor who speaks English, make sure you ask whether the receptionist/practitioner speaks English. You should also ask whether they accept patients with an EHIC card, or whether they are a private practice. I had the misfortune of assuming that my EHIC card entitled me to free healthcare in every doctors surgery, but then I was landed with a large bill after treatment. If you need to pay for any treatments which are not covered by your status as an EHIC holder, the surgery will post an invoice to you, which you pay by bank transfer.
Opening Times and Bank Holidays Finally, there are a lot of bank holidays in Baden-Württemberg, because the Bundesland is both catholic and protestant. Different federal states in Germany have different bank holidays, depending on the history and political leaning of the state. It is a good idea to know well in advance when these bank holidays are, because everything is closed on bank holidays. All shops (apart from cafés and pubs) are also closed on Sundays. Bank opening-times are a little frustrating in Germany, because the banks usually close for an hour-and-a-half during the middle of the day over lunch and they are not open on weekends. The German banking system isn't as 'online-friendly' as you will be used to, so you might have to actually travel into a local bank branch to complete transactions you would be able to do online in the UK.

Weekend Activities
There is always so much on offer in Heidelberg. A lot of the Irish pubs in the town have comedy nights, quiz nights and open mic nights, which are fun. There are free sports classes, which take place in Neuenheimerfeld and are provided by the university. There are seemingly limitless clubs and productions to get involved in. The university have a lot of different theatre productions and theatre groups. For example, the Theatergruppe des Anglistisches Seminars host English-language theatre productions, if you want to get involved in a play. Classical music is everywhere in Heidelberg and there are many orchestras and choirs open to the public. There is a bowling alley near the Hauptbahnhof at Betriebshof and there are a few cinemas dotted around the town.
A lot of festivals take place in Heidelberg at different times of the year: Heidelberger Herbst; the Weihnachtsmärkte; the International Film Festival; the Heidelberg Music Festival… There are a lot of community events, such as the half-marathon in Heidelberg. It isn't unusual to walk into town and find something unexpected happening!
The two Erasmus societies in Heidelberg offer a wealth of varying events and regular pub nights. ESN and AEGEE are fantastic, so make sure you 'like' them on Facebook, to stay in the know about the events they are offering. In previous years, they have hosted events ranging from electro club nights, to a survival camp weekend.
Top Ten Things
1. The weather. This might sound like a small point, but, being English born and bred, I didn't realise just how much sun I was missing out on until I moved abroad. In the summer, the weather is constantly warm and you can spend day after day and night after night lying on the Neckarwiese (the river bank of the Neckar), sipping at a bottle of beer.
2. The community feel and the size of the town. I loved Heidelberg because, in contrast to London, it is a relatively small town. The people are very friendly and locals will strike up a conversation with you on public transport. Internationals are also made to feel very welcome and the city has a diverse history and present. The US army used to be based here, so nearly everyone speaks English.
3. Heidelberger Thingstätte and Philosophenweg. If there is one thing you do in Heidelberg, make it this. Allow yourself an hour to walk to the top of a large hill on the north-side of the river and you will be rewarded with fantastic views of the town. Also, nestled into the hill is an old Nazi amphitheatre – the 'Thingstätte' – which is an overwhelming and completely unique place. There is also an old abbey on top of the hill behind the Thingstätte, which is both eerie and beautiful.
4. The Studentenkarzer (student prison) This attraction is very cheap to visit and it is a fascinating, quirky little place. The university used to have jurisdiction over its students, instead of the State. This meant that when students were caught drunk in the streets, instead of being prosecuted, they would be brought to the student prison. This might sound like a dark and dreary place, but in reality, it soon became a rights of passage to have 'done time' here. This was the initiation ceremony of the 18th Century Heidelbergers. The students would paint their faces and write quotes on the walls, which are still there today.
5. Schloßbeleuchtung. Three times a year, the town has a large firework festival to commemorate the day that the French burnt the city's Schloß (castle). The dates of the Schloßbeleuchtungen are widely advertised and it is well worth seeing.
6. Schloß. Whilst the Schloß itself is a ruin, it is still nice to visit the castle to get an idea of the grandeur that it once represented. During the film festival, a large tent is erected and international films are projected at night in the castle ruins. At Christmas, the Castle grounds turn into a Christmas market. Above the castle is Königstuhl, which you can reach by Bergbahn, or you can walk. This mountain-peak walk offers breath-taking views of the town and is especially nice in winter, when it becomes a winter wonderland covered in snow.
7. The language school. I found the language school incredibly good value for money. Language lessons in London are often expensive and you don't really get enough contact-time to make it worthwhile, but if you enrol on the courses at the university, you can get 8 hours of tuition a week for a very reasonable price.
8. The bars. OK, Heidelberg doesn't have a particularly great nightlife and if you want to go clubbing, you can head to Halle 02, but it is probably best to go to Mannheim. However, Heidelberg has a myriad of fantastic little pubs and cocktail bars. If you walk down the Unterestrasse, you will find a concentration of these. Also, because everybody in Heidelberg knows each other, you are guaranteed a nice night because you will end up bumping into and catching up with a lot of old pals.
9. ESN/AEGEE. The Erasmus societies ESN and AEGEE are absolutely fantastic. They host so many events, you will almost have too many opportunities to meet new people and experience new places. When I was in Heidelberg, they arranged a series of pub crawls, day trips and even a Bear Grylls-style survival weekend in a German forest!
10. Bergheimer Straße. I found it was easy to overlook Bergheimer Straße if you get into the habit of going to the Altstadt all the time. Bergheimer Straße isn't as pretty as the Altstadt lying on the other side of Bismarkplatz, but it has some fantastic restaurants, chocolate shops and cafes. For example, there is a complex called 'Alteshallenbad', which is an old swimming pool that has been turned into a shopping Centre, but retains a very swimming-pool-spa-type feel!
Reflections
It is a huge cliche that travelling broadens the mind and helps you mature as a person, but I think that this cliche is so well-known for a very good reason. That reason is that it is entirely true. Looking back now, before my study abroad experience, I was a very different person. The experiences, memories and friendships you make when you are on your year abroad will – without meaning to sound too dramatic – change you forever. This is true no matter where in the world you study, because in some respect, when you move abroad you have to re-learn so much: how to talk (if you are learning a new language); how to act in a different cultures; where to go to buy the things you need. You become a stronger and more flexible individual, because you learn to embrace little vulnerabilities (like not knowing how public transport works) and push out of your comfort zone. I found that moving abroad also showed me how kind people can be and how willing strangers are to help if you are lost, or there are language difficulties.
Whilst what I have previously mentioned applies to all study abroad experiences, there were a few things that make Heidelberg special. Heidelberg has a very wholesome atmosphere. The town is relatively small (especially in comparison to London!) and it has a very, very strong sense of community. There are endless events that take place (Heidelberger Herbst; the half marathon…) that really draw the town together. It is impossible to walk down the Hauptstrasse and not see someone you know. Because of this, you forge incredibly close family-like friendships, which stave off the loneliness which can sometimes come with travelling. Heidelberg is also an absolute hub of academia and the people you meet here tend to be slightly 'hipsterish': they love discussing politics and arguing over which Seitengasse coffeeshop makes the best espresso!
So, I would completely recommend Heidelberg to you, if you are looking to study abroad, and I am slightly jealous that I will not be able to go through the experience again!