As move-in weekend creeps closer and the excitement continues to build, it's time to start picturing your life in your brand new home.
Moving to university is a completely new experience and you're likely to learn a lot along the way, but one thing I want to help you get right is your moving day. Together, we can make sure that moving into your King's Residence is stress-free and pretty smooth sailing!
I'll show you exactly what you need to bring with you on move-in day, what you can buy when you get here, the best places to shop and more.
What will be in my residence when I arrive?
King's Residences encourage you to personalise your room so that it feels like home and represents you BUT that doesn't mean you have you bring your furniture with you! You get a lot of items included in your rent, so don't worry about buying or bringing any of these with you:
Bed and mattress (with a mattress protector)
Desk and chair
Wardrobe
A set of drawers
Curtains/blinds
Microwave
Washing machine and dryer
Ironing board
Vacuum
Mop & bucket
Sweeping brush
Not all of these will be in your room; you'll have to venture out to your kitchen or even communal spaces to find some of them but they are all there for you to use.
What do I need to bring with me?
When you first open the door to your room, it looks a bit like an empty shell but in the best possible way because it's a blank canvas ready for you (and your things) to bring it to life. Watch a fellow KCL student show you exactly how it's done!
If you're travelling to London from a different part of the UK, you shouldn't have a problem packing a car full of this stuff and carrying it up to your room once you arrive. Beware: this will probably take a few trips but it's all worth it in the end – it means you can officially start getting settled into this exciting new chapter!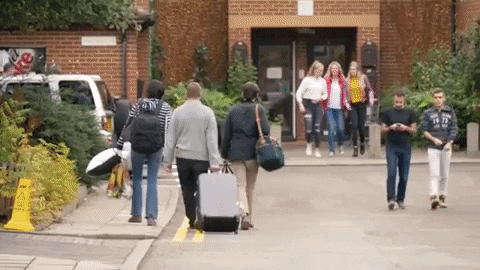 Here are the must-haves:
Bedding (duvet, pillowcases, bed linen)
Towels
Cleaning products
Toiletries
A bin
Clothes and shoes
Clothes hangers
Pots and pans
Crockery and cutlery
Kettle
Toaster
Important documents (ID, enrollment paperwork)
Technology (laptop, speaker, TV, games console)
Chargers
It's worth mentioning that it isn't always necessary to buy all of this yourself. You don't want to end up with 5 kettles and no space for everyone's pots and pans or food. By joining your residence's official Facebook group, you can find your future flatmates and plan who's bringing what. I did this and I found out that someone had already bought a toaster for the flat, so it saved me a bit of extra money. Winner!
What can I buy in London and where from?
For those of you who are joining KCL from overseas, you may struggle to bring much more than a couple of suitcases. That isn't a problem though because once you arrive in the UK, you'll find that there are LOADS of places to buy all the essential household items.
If you're unsure of where to shop, here are some ideas:
What should I leave at home?
For the safety and convenience of you and your future flatmates, there are some things that aren't allowed in King's Residences so just leave these at home. Whenever you're packing or out shopping for uni supplies, remember you shouldn't have these:
Candles, incense, oil burners
Hookah pikes
E-cigarette chargers
Large furniture and electrical items
International rice cookers (they must be purchased in the UK)
Your car, moped or motorbike
Clothes horse (every residence has dryers)
You're going to have a great time living in your new home and for me, move-in weekend was one of the highlights of Welcome Week.
Now it's time to focus on getting your uni supplies together and it'll start to feel much more real, especially once your house is filled to the brim with moving bags and boxes!