If you haven't been to London before, you're probably pretty unsure of what to actually expect and may have just heard or read things here and there…
Before starting at King's, I was exactly the same. I had barely ventured away from my hometown and didn't know much about London other than what I had seen on TV or read online.
Despite being England's capital city, London doesn't always get the best representation but let me tell you, you're about to move to one of the best and safest places in the UK. I was (pleasantly) surprised at how safe it is in London; both at my King's Residence and when I was out and about in the city.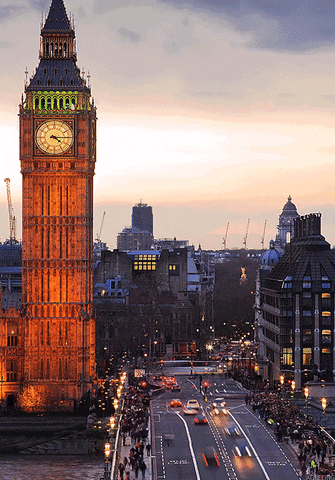 Whether you're from a completely different country or elsewhere in the UK, it's likely that your current day-to-day life is very different compared to life in London.
At home, you may not have reliable public transport or transport apps that make your life easier but that's exactly what you can get used to living in London. Before moving to London, if I ever missed the last train on a night out, I would have a pretty long walk in the dark (not ok) or have to fork out a fortune for a taxi but I've never had to worry about this whilst living in London! The Night Tube runs on a Friday, Saturday and Sunday so if you ever go on a night out or for a late dinner with some friends, you can get home safely at no extra cost. Remember, that the Tube is one of the safest ways to travel in London too.
During the week, Night Buses run from 11pm until as late (or early) as 6am. Whether you catch a bus or jump on the tube, you're always guaranteed to find a safe way home rather than hanging about for ages in an empty train station in the early hours of the morning or even worse, walking home. Apparently, 90% of Londoners live within 400 metres of a bus stop, so you won't even need to worry about walking far to the nearest one either!
When you're out exploring the city, here are 3 things to remember:
Use your phone wisely. Don't be afraid of using your phone, just be aware of how often you are using it. If you don't need to walk around texting or on the phone, avoid it. You may use your phone to help you navigate the city but stay alert and vigilant; that way you'll always be aware of your surroundings.
Use well-lit cash machines. If you ever need to grab some cash on a night, always use ATMs that are well-lit and in built up areas. Trust your instincts, if something doesn't feel right, keep going until you come across something a bit more trustworthy. Try not to carry too much cash at a time though, mainly because you're just more likely to spend it!
Stick to main roads. If you're walking around, try to avoid shortcuts and alleyways, at least until you become a bit more confident navigating London. Navigation apps like Google Maps will become your best friend in this city but if they direct you towards a side street you're not too confident going down, stick to main roads instead.
A home away from home
One of the BEST things about being a KCL student, for me, is living in King's Residences. Not only does it allow you to meet a diverse group of people and learn new life skills, you are also supported and protected whilst you're living there. King's staff will monitor your residence 24/7; whether this is with a receptionist, security, warden or CF. This was a huge positive for me because once I moved in, I realised they were available to help me whenever I needed it. I was given their contact details (phone numbers and email addresses) meaning I could get in touch with them whenever I wanted to.
Another positive to staying in King's Residences is that you're always safe. You may be trying to imagine exactly what your residence will be like but that's difficult. One of the most important things for you to know is that you're secure. Usually, you need to get through 2 or 3 locked doors/gates until you arrive to your flat. You're the only person who has the keys to get your room too; you may share a flat with others but things in your room will always be locked away and protected. King's Residences have contents insurance included in your rent too, so if anything ever was to happen, even though it's rare, you're protected.
I hope that puts your mind, and possible anxieties, at ease. You're in good hands in London and hopefully, now you can focus on moving to this amazing city and getting yourself prepared!