Research led by King's academics has suggested that taking a side road when walking in the city could reduce an individual's exposure to dangerous air pollution by half. 
The study, highlighted in The Guardian this month, has allowed researchers at King's to map out areas of the city that are at risk from diesel pollutants, cars and other airborne fumes. Focusing on 7 highly popular walking routes in and around the city, including to and from King's Cross and Euston, the team of academics produced an interactive map that allows users to plot their journeys on foot according to lowest amount of pollution exposure.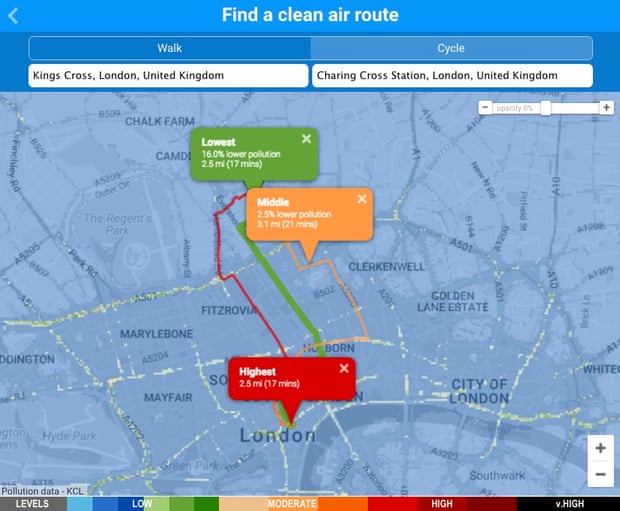 Speaking to The Guardian, Dr Gary Fuller said: "This could be better in so many ways for people's pollution exposure and probably for their sense of well-being as well. Anything you can do to limit your exposure will be good for your health."
The research was commissioned by the Cross River Partnership, a public-private city regeneration group with funding from the Mayor of London, whose work aims to address the severe levels of toxicity experienced by Londoners in their day to day lives.
Further research by the Environmental Research Group at King's includes:
For more information about the work of the Environmental Research Group at King's, please see their website.