Top Ten Things
1) The Campus
Set atop a hill looking down on San Diego, it's one of the most beautiful campuses in the US (don't take my word for it – http://www.travelandleisure.com/slideshows/americas-most-beautiful-college-campuses/6). There is Spanish architecture running throughout the whole campus, and the university gardens and flowers are always perfect. Other than being aesthetically pleasing, the campus also has so many student facilities. The best one would probably be the outdoor pool and sunbeds around it, followed by the soccer, football, basketball and baseball fields where students go to watch games all the time – there's a huge university spirit. The view of the bay and the ocean from the Garden of the Sea behind the IPJ building is spectacular, a great place to go to study if you're bored of the library.
2) Torero Program Board (Equivalent of KCLSU)
TPB organises SO many student focused events – it would be impossible to list them all, but there are about one a week throughout the whole year – I'll pick out some highlights. I loved the apple festival, where students came to an afternoon of feasting on apple related foods (for free) from pies to candied apples to tubs of apples we could help ourselves to. Homecoming was also a great experience. It was a fairground theme with bumper cars, ice cream, popcorn and fried oreos (again, all free), followed by a concert where MAGIC! (the guys who sang 'Rude') performed.
3) Beaches
The university is within reach of several beaches – Pacific Beach (or PB) is a 10 minute drive away, and also a major partying spot. Ocean Beach (or OB) is also closeby, and it's slightly more edgy (think tattoo parlours and vintage stores). Prepare to be eternally tanned.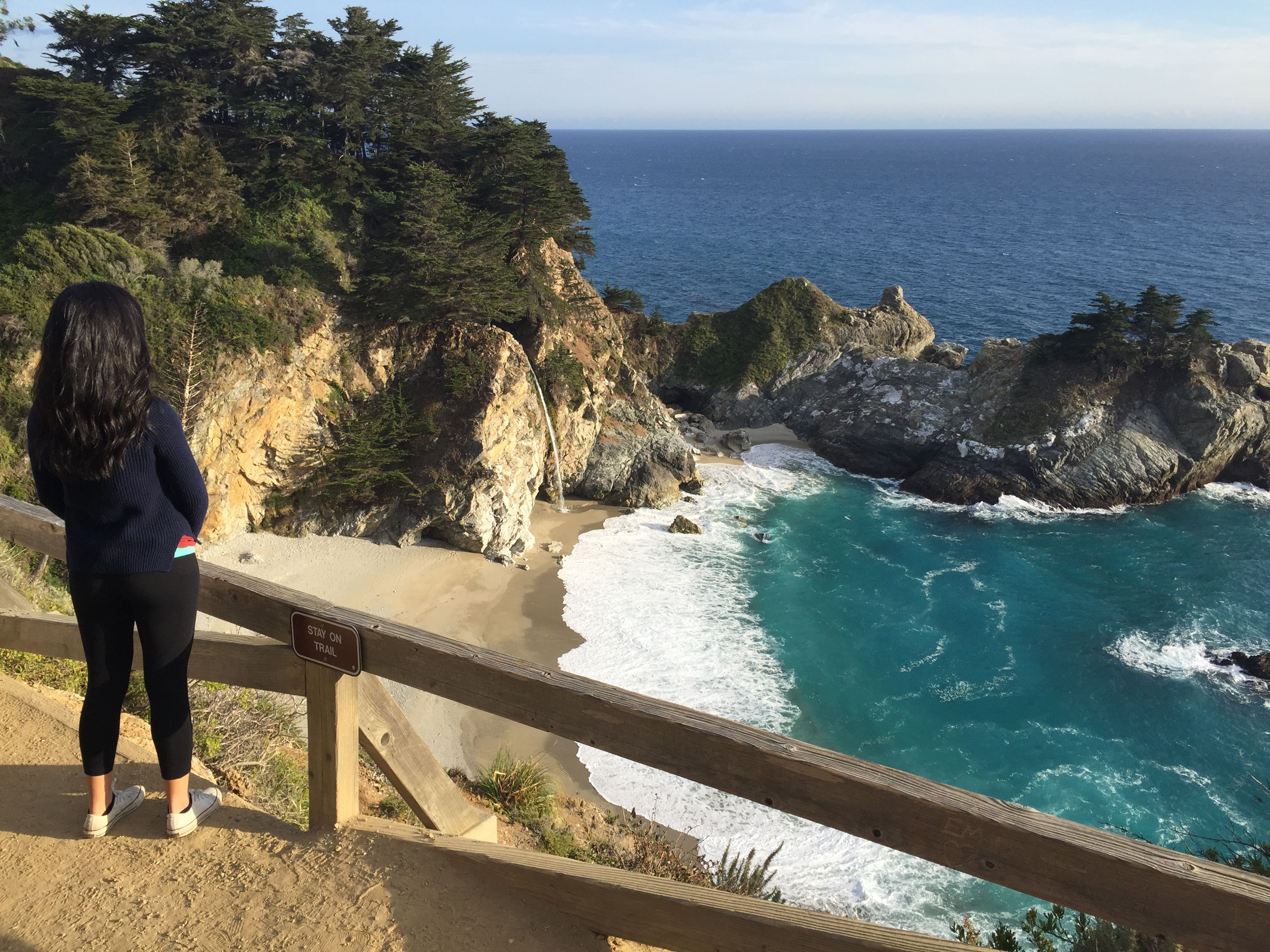 4) Classes
There are so many more specific classes to take at the school of law. This means it's possible to actually pick things you're specifically interested in – for example, I took a class on Transitional Justice and Mass Atrocities, which was a very specific class and so interesting.
5) Mexican Food
Being so close to the border of Mexico means that there's an unlimited supply of restaurants  that provide delicious, authentic Mexican food. Old Town is a great place for Mexican food and it's inside (funnily enough) an old town so you feel like you're in the old west. Must go for Taco Tuesday where tacos are $2-3 and margaritas are half price.
6) People
Having lived in London all my life, it was refreshing to be around constantly happy people. It's probably the sunshine, you can't help but wake up feeling happy. Also they love the English accent.
7) Farmers Markets
There are a few farmers markets in San Diego, the biggest one being in Little Italy, Downtown, on Saturdays. It's a great place to buy fresh fruits and vegetables and flowers. Ocean Beach also has a farmers market on Wednesdays with slightly different vendors. Grab some food from one of the food trucks and go sit on the beach and eat it as you watch the sunset.
8) Eternal Sunshine
Worthy of being given its own point – it hardly ever rains, and you could go to the beach on Christmas Eve and it would be warm.
9) La Jolla
This is the slightly more posh area in San Diego. The restaurants are great – a lot of seafood places. And you can even go see the seals basking in the sun in La Jolla cove. Be warned, the smell is overwhelming.
10) Hiking
So many amazing hikes in San Diego and LA, my favourite one was the Potato Chip Rock hike (or Mount Woodson). At the end of the hike you go and sit on a thin rock overlooking a drop – terrifying but worth the amazing pictures.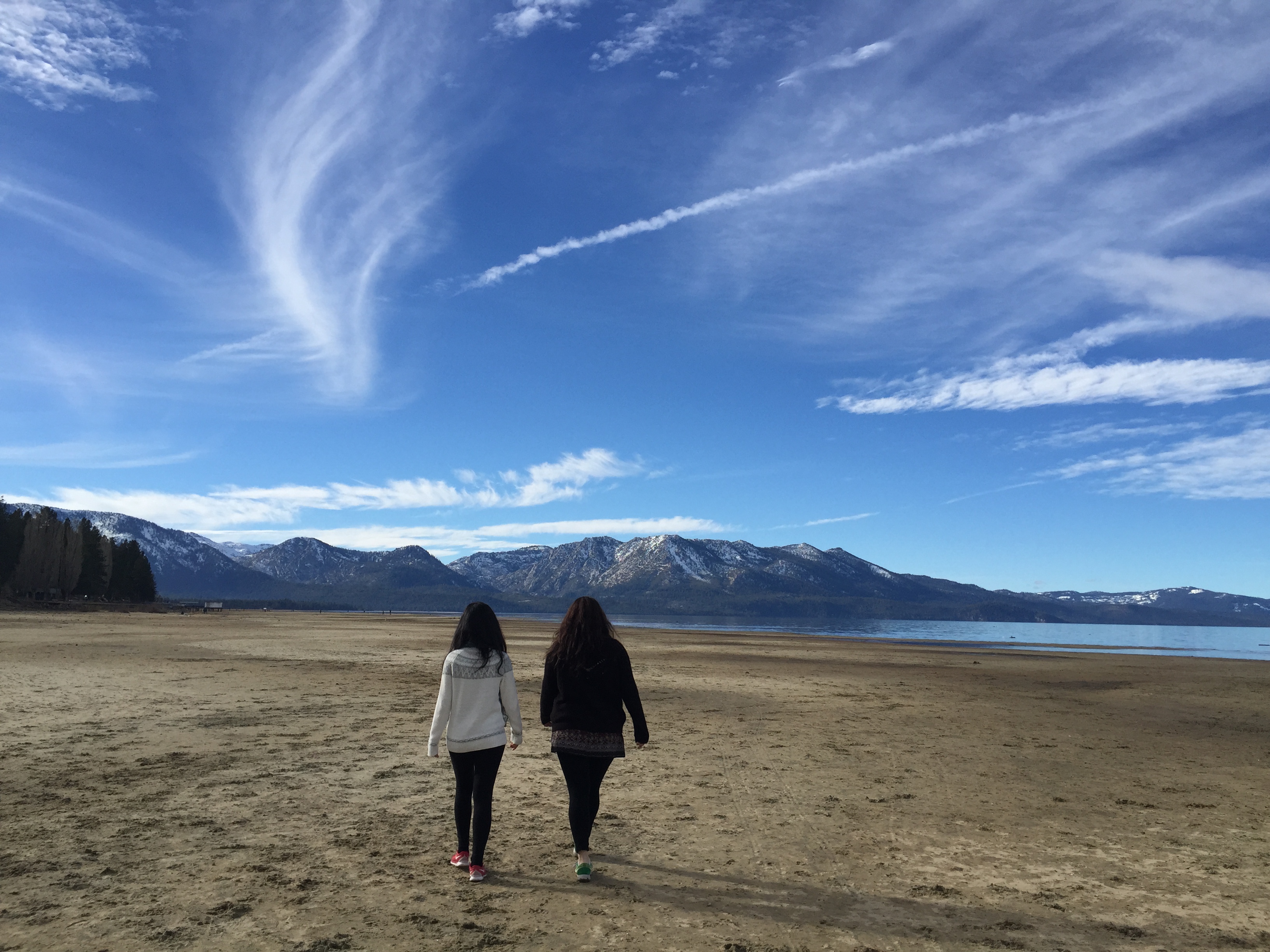 Accomodation
Graduate and undergraduate housing are in different areas, and since you will be considered as a graduate student, the popular choice is Manchester Village. This overlooks the baseball and (American) football field. It's predominantly apartments for sharing between two people so a roommate will be allocated (based on a personality test you do before you arrive). It's fully furnished with a dining area and a kitchen and there are community rooms, conference rooms and study rooms, also a fitness room. The main gym is also just up some stairs towards main campus, as is the outdoor swimming pool, sunbathing area and tennis courts.
As for laundry, there are facilities within each residence and you top up your laundry card and use that instead of change.
There are shuttles which constantly go through campus, so if you're not really feeling the 12 minute walk to the law school, then you can just hop on one of those.
I waited a little too long to apply for accommodation at Manchester Village so the accommodation services offered me another (slightly more expensive) option of having my own apartment in San Antonio de Padua (or SAP). The first floor were individual apartments for graduate students so I met some law students and other exchange students through living here.
If you would prefer to live with other students by the beach, as the majority of undergraduate students do, you can find an online Facebook page to find housemates. However, you will need a car as it's impossible to walk anywhere in San Diego. While the beach is only a 10 minute drive away, bear in mind a lot of the roads in San Diego are essentially motorways so it would take hours to walk.
For home shopping, Target is the way to go. They sell pretty much everything and it's affordable and there are loads of Target stores around. There is also an IKEA which is an obvious good option too.
At the beginning when you're trying to get around San Diego to buy all this stuff, I would recommend using the Uber app because it's cheaper than normal taxis and there are so many Uber and Lyft (another app) drivers in San Diego.
Studying
Modules
There are so many modules to choose from compared to King's, understandably because it is a graduate programme and students actually start specialising for their area of practise in law school. My favourite ones that I studied were Transitional Justice and Mass Atrocities, Health Law and Reproduction and American Constitutional Law. Constitutional Law is actually a first year compulsory module which you have to request specially to take, but I would really recommend it as it's so interesting especially to compare to the UK system.
You have to take 12-13 credits each semester which equates to 4-5 classes so it's quite manageable. You will get a one-on-one session at the international office to pick your classes and it's really helpful as you'll get an insight into the course and the professor who teaches it.
Classes are quite small (compared to the compulsory ones like Constitutional Law, but even this is smaller than our first year lecture numbers) so it feels more like a seminar than a lecture. They actually don't differentiate between lectures and seminars so you have 1-2 classes per week of that class. But it's quite interactive – I remember thinking Legally Blonde was quite accurate when they showed her getting called on in class to answer a question. So to avoid embarrassment, do the reading beforehand. It's also a good incentive to actually make sure you're doing some work.
Assessment
Unlike at King's where everyone could get a 2.1 if they did well, U.S. law schools grade on a curve. This means only a few people can get an A, some have to fail/get Cs and the remaining people get Bs – so it's graded based on the quality of the group. This sounds scary but if you just do the assigned reading you will get a B.
But this means that everyone gets slightly more competitive and one edge during during finals time, but just stick to what you know and study at your own pace and the scariness of the curve won't bother you.
Weekend Activities
You will never run out of weekend activities while you are there. Ever.
If you're over 21, Vegas is a top choice for a weekend away. It's a 5 hour drive from San Diego (in the U.S. a five hour drive is considered short). If you're not over 21 then a popular choice among the undergraduates, and the graduates actually, is to take the half hour long train ride to Tijuana, Mexico, as the drinking age there is 18. However, word of warning – take your passport and other student VISA papers with you whenever you cross the border otherwise you will not be able to get back in. Also, while I did not have any bad experiences in Tijuana, it is slightly more dangerous than San Diego so it would be wise not to drink too much.
Mission Bay Aquatic Center is a short drive away from the university and they have so many water activities there – paddle boarding, sailing etc. USD actually organised a free drop off and pick up day with access to all of the activities in the first few weeks of term so look out for that and definitely go. They also had lunch there and other free things being given out so no need to even take a packed lunch.
Mission Bay Beach also has bonfire pits so if you get the chance, definitely go out there one night and make smores over the fire. The Office of International Students is a really good student organisation and they organise loads of social events for the international students, one of them being a bonfire night, so look out for their events. It's also a great way to meet people.
If you've ever watched any American college movies you will know about fraternities and sororities. They're surreal and so many people join them. I think it's necessary to experience at least one fraternity party in order to truly have had the American college experience.
Another good weekend activity is watching a baseball game at PETCO park and cheering on the San Diego Padres. Or watching a football game at Qualcomm stadium and cheering on the San Diego Chargers with a beer in one hand and a hotdog in the other.
If it's a particularly long weekend then you can go to places a little further away. During long weekends we planned trips to the Grand Canyon, Yosemite National Park, LA and Santa Barbara, San Francisco, Lake Tahoe, Zion National Park etc. There are so many beautiful natural parks and different cities that are less than an 8 hour drive away so try and see as much as you can. You could also go a little further – I ended up going to New York just before Christmas because internal flights within the U.S. are so much cheaper than if I were to book the flight from London. And you will have made friends by Christmas time so you could even visit one of them in a different part of the U.S. and have an American Christmas.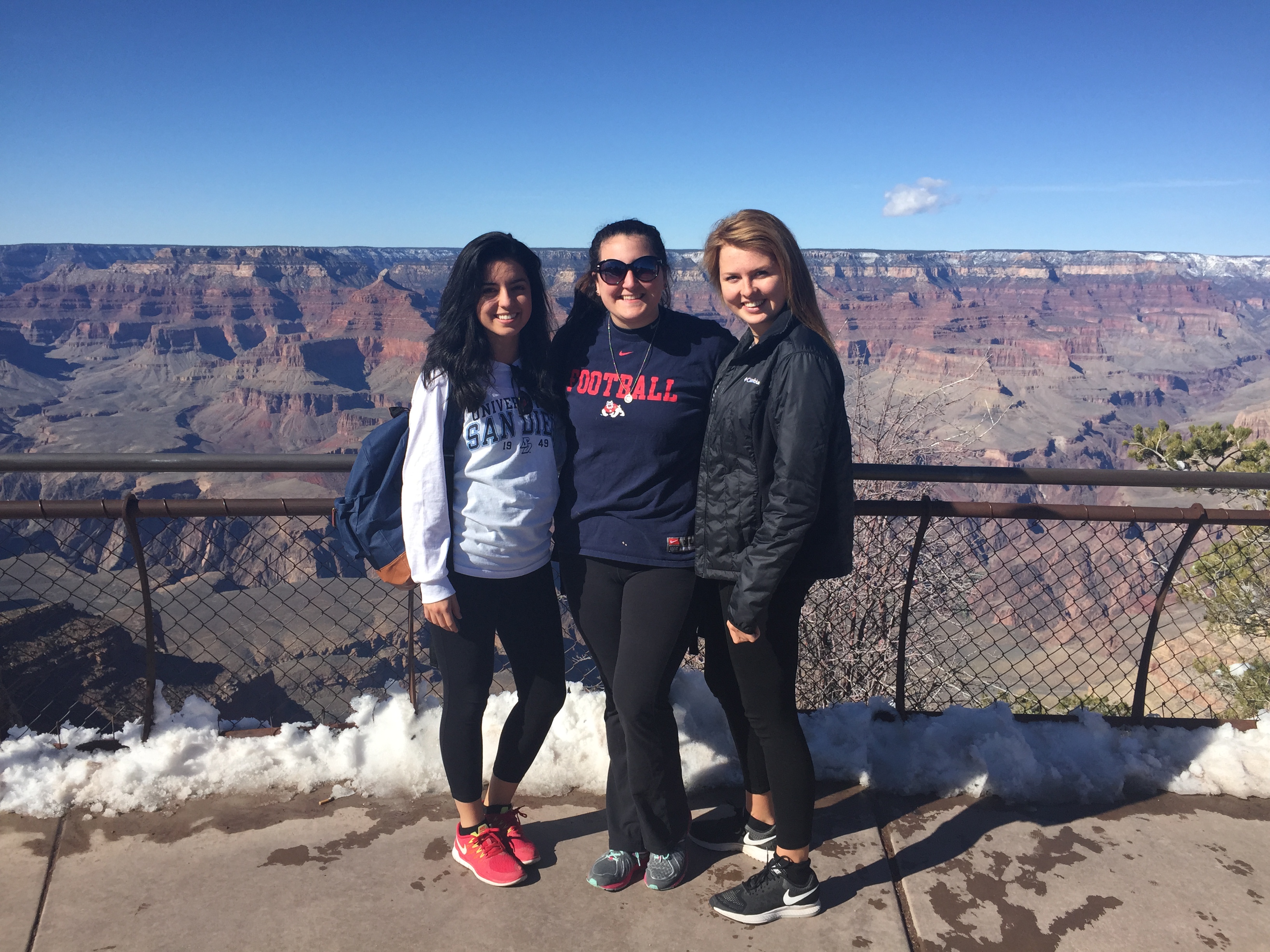 Food
There is a lot of good food to be enjoyed in San Diego so I have made a list of places I particularly enjoyed and would recommend.
Snooze in Hillcrest for brunch – usually a queue but well worth it.
Sab-e-Lee down Linda Vista Road (the road USD is on) – the most amazing Thai food I have ever had. Spiciness is rated from 1-10 but do not go above 4, however much you think you can handle spice.
Mexican food – JV's on Morena Boulevard, California Burrito is a must (2 minute drive from USD)
Casa de Reyes in Old Town (5 minute drive from USD) good food and fountains and fire pits as well as live Mexican music and dancing on the stage within the area.
Queenstown Public House in Little Italy – on the corner of the road from the farmers market, great for brunch.
Better Buzz Coffee, Pacific Beach
Baked Bear – ice cream sandwiches at Pacific Beach. A must. Pick two cookie flavours and and an ice cream flavour for the middle and walk along the beach eating it while you contemplate how something can be so delicious.
Hodad's burgers in Ocean Beach – the most American burgers you will ever eat and a cool interior with bumper stickers and license plates covering every surface
Dirty Birds – a sports bar with the best chicken wings you will ever have (the dirty ranch wings were my favourite)
And last but not least – In-N-Out. It may look like a weird version of McDonald's from the outside, but it's not. Secret menu – animal style fries must be tried.
Reflections
I can honestly say that my year abroad was, hands down, the best year of my life. Admittedly, it was partly having a year away from the stress of London that made it so amazing, but mostly it was San Diego and the people I met there that made it so unforgettable.
When I imagined southern California and googled the images of San Diego (almost every day) before I had left, I thought I was creating a much too idealistic image of the place. But it's truly a slice of paradise and you constantly have to remind yourself that you are not on holiday in a sunny location. I found myself envying the students there and the fact that they did not have to leave after a year.
Of course, other than the copious amounts of fun to be had, there are loads of practical things to be learned and gained from the experience.
American law is very interesting to study. While it is similar to UK law in some ways, like the fact that it is a common law system, the differences in the government and particularly the political aspect of the judiciary immensely influences case law, which is why I would thoroughly recommend taking Constitutional Law.
There's also the experience of moving to and living in a different country by yourself and the initial fear and then quick change to elation that comes with it. I did freak out when VISA appointments weren't as early as I would have liked and when I didn't get the accommodation I applied for, and while it would not be possible to tell someone 'not to freak out', it's important to remember it always works out (eventually).
I'm grateful that this opportunity existed and that I ended up in a place that felt more like home than home in London does. It's impossible not to have a good time, so take the opportunity.