Top 10 Things
1. The area
The campus itself is in the area of Georgetown: a small, affluent area of DC, featuring picturesque rows of townhouses and excellent opportunities for both high street and high-end shopping (M Street). It's close to the waterfront and a few small national parks, so it is a very pretty place to be, too. It's also not too far from the more central areas of DC (Dupont and Foggy Bottom), so jogging to the Lincoln Memorial for a morning run isn't too much of an arduous task.
2. The city
As well as having Georgetown and all it has to offer just a few blocks away, Washington D.C. itself is albeit a quiet city compared to London, but has so many things to do – from the dozens of museums and galleries to concerts and political talks. When it's warm one of the best things to do is grabbing a picnic to have at the National Mall.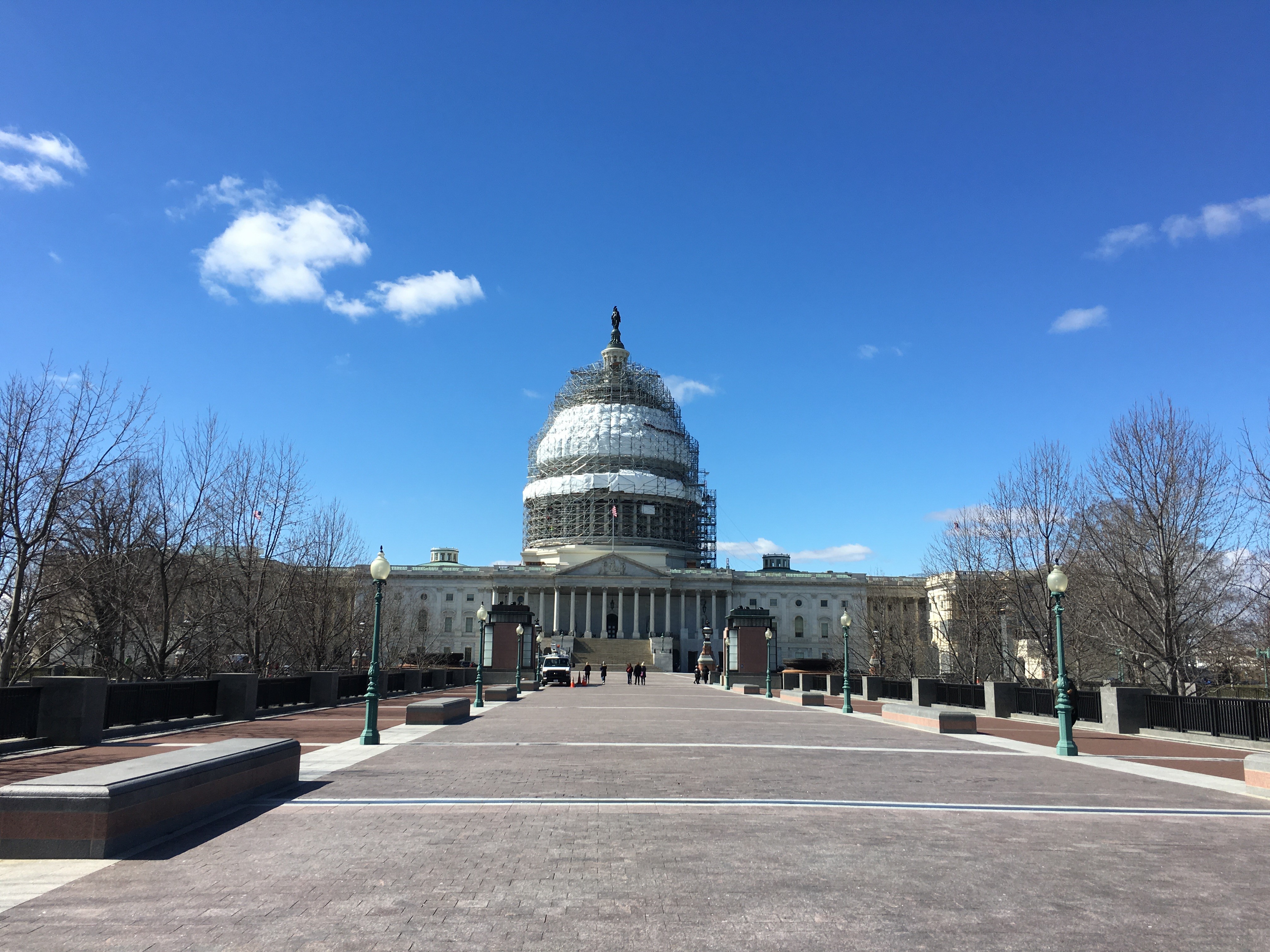 3. GUTS Buses
While the DC transport system doesn't have a patch on London, Georgetown provides 5 free shuttle buses to get from Georgetown to other key parts of the city. There is a metro system, but rumour has it the rich residents of Georgetown fought against having a stop built to avoid it being easily accessed by others. A slight problem for us now, but thankfully the buses are efficient and help a lot!
4. Food
Washington, D.C. isn't really famed for its food, except for Ethiopian food and cupcakes. There are two main cupcake shops in Georgetown: Georgetown Cupcake and Baked & Wired. The former shop is infamous for its reality show – plots included making too many cupcakes, or how to make a wedding dress out of cupcakes. Baked & Wired is its hipster alternative, featuring excellent coffee (and far better cupcakes IMO), and unlike Georgetown Cupcake, there's rarely a line to the end of the block. Other highlights in Georgetown: Sweetgreen (5 minutes from campus – excellent salad), Il Canale (just off M Street – excellent pizza), Kintaro (excellent Japanese). In the summer Georgetown has its own weekly farmers market too, with crème brulée donuts a plenty.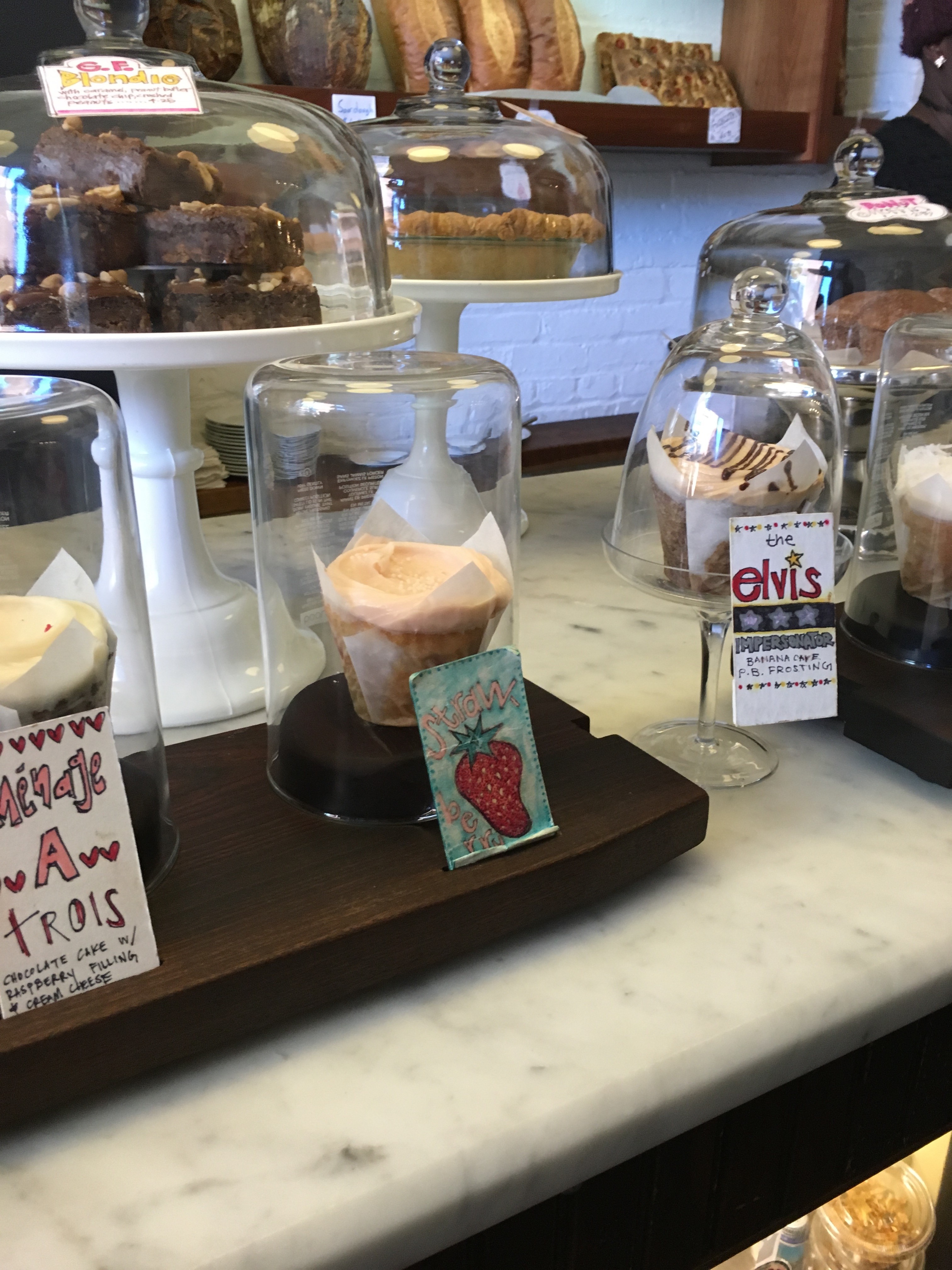 5. The history
Being able to walk past the tavern where John F. Kennedy proposed to Jackie O, or the former house of Thomas Jefferson on your daily walks to Baked & Wired is pretty cool. Georgetown itself is historic, featuring the oldest building in DC, and many famous churches.
6. Internship opportunities
Internship culture is prevalent across campus, and even within exchange students. Not everybody does it, but the option is available, and the university is very helpful in both securing a position and working out the necessary visa paperwork. Exchange students I know have interned at a variety of places –presidential campaigns (something I did), Think Tanks, lobbying firms, and a fair few at the Capitol in Congress.
7.The talks
Being such a prestigious institution, Georgetown attracts high-level speakers often on a daily basis. Bill Clinton (an alumnus) and Madeleine Albright (a resident professor) both do a collection of talks each academic year, the latter of whom I was able to see. Barack Obama, Bernie Sanders and Hillary Clinton also spoke last year, with students queuing for hours to secure a spot for each of the talks. Other notable speakers across the semester include: Edward Snowden (via video call!), the Queen of Jordan, David Miliband, Martin O'Malley, Carly Fiorina, Robert Putnam and many more.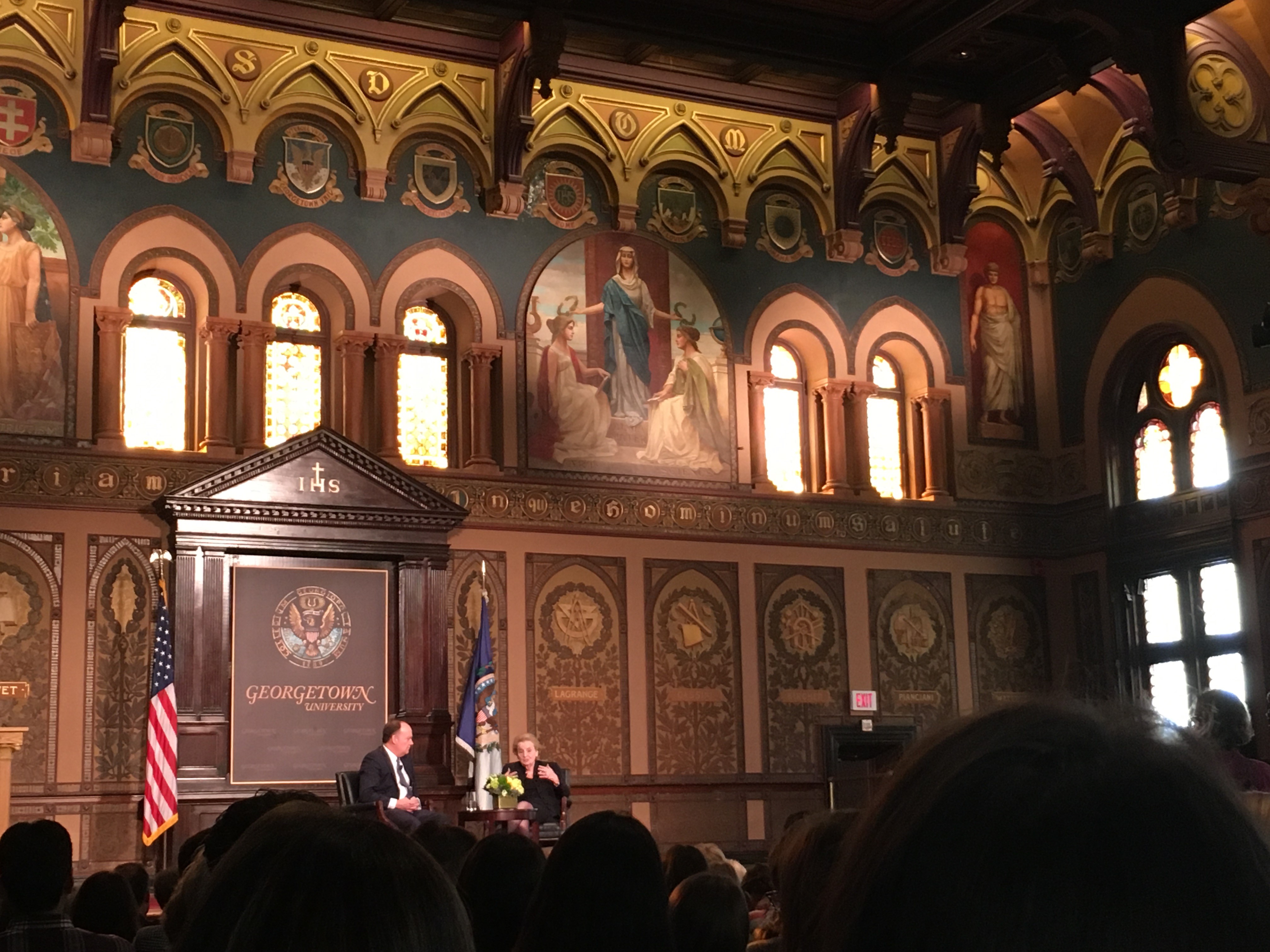 8. Location
Washington, D.C.'s proximity to other cities around the East Coast makes traveling both easy and cheap. You can get the bus to New York for $5 if you book far enough in advance, and for a 3-hour journey it's perfect for a weekend trip. Philadelphia is only 2 hours, too, and Boston is 6-8 hours away.
9.The classes
While there is a lot of work, there is a great academic edge at Georgetown that is hard to find elsewhere. With a former Secretary of State included in the staff, as well as famous journalists referenced in House of Cards, professors hold impressive credentials and expertise to their subjects.
10. The campus experience
The experience of being on a campus is the complete opposite to being at King's, as you can imagine. Whilst you are in the middle of Washington D.C., you also have a little bubble within campus. You could stay on campus and have everything you need: there's the dining hall, a supermarket, restaurants, and coffee shops. I wouldn't recommend this however, because there's so much to see! The best part about being on campus is not having to commute unlike London, with classes being a couple of minutes walk away. You will notice that everybody wears Georgetown merchandise too – everybody – give it a few weeks I'm sure you will join in, I did. Hoodies and t-shirts are most common, but many people wear Georgetown jackets, coats, sweatpants and the like. Also, being on campus, students are far more relaxed with what they wear, wearing sweatpants and flip flops to class.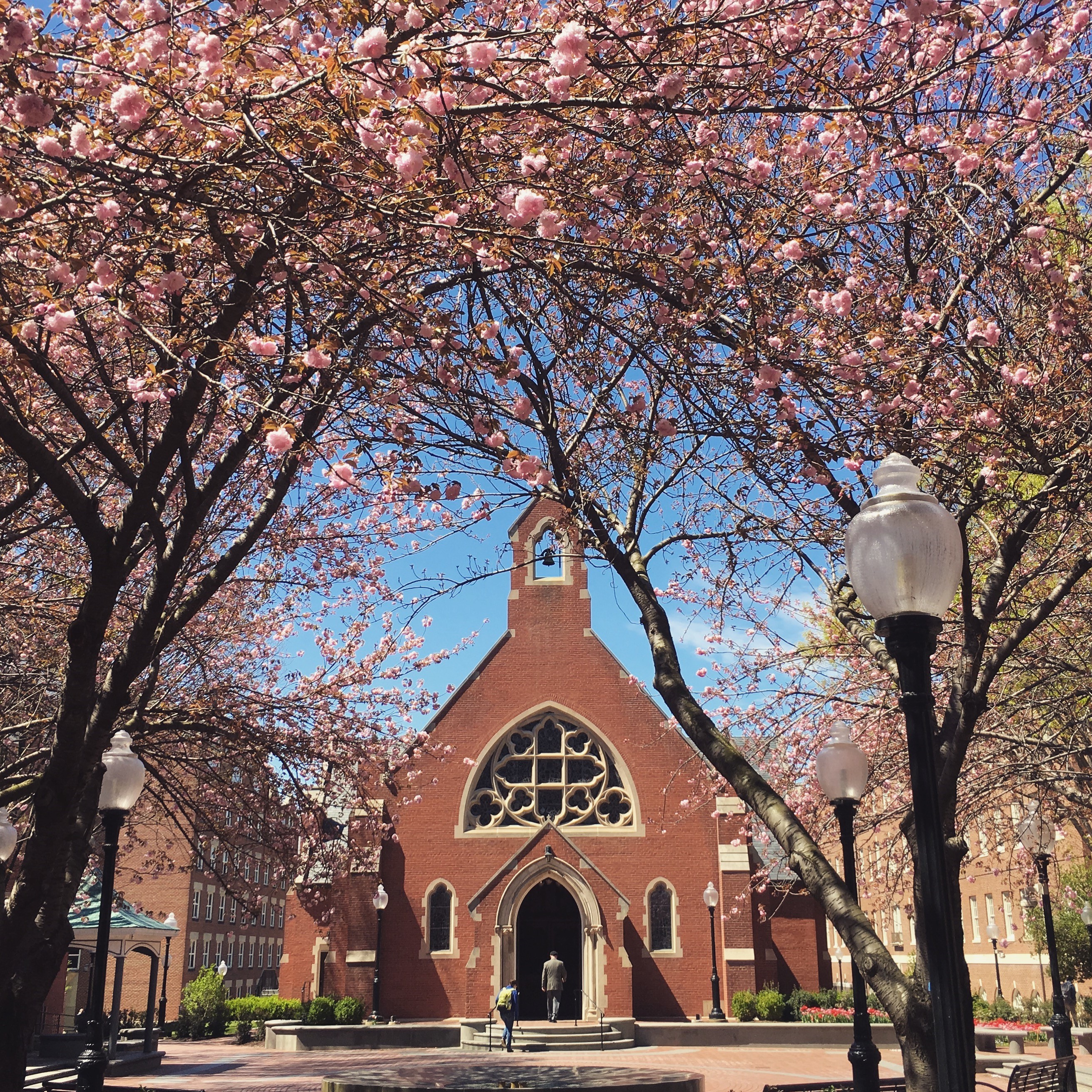 Accommodation
Housing at Georgetown is rather hit and miss. While the best thing about the accommodation is the proximity to classes – almost every dorm (the only dorm that doesn't is a freshmen dorm, and exchange students aren't placed there) requires less than a five-minute walk, the quality of the dorms are a little substandard compared to King's. Although, providing all your documents are sorted on time, King's students are guaranteed on campus accommodation.
There is no opportunity to rank your preferences for housing, but you can state whether you would prefer a dorm (40-50 a floor, shared bathrooms and common room) or an apartment style (4-8 in a flat, shared bathroom and kitchen/common area), and the housing office simply allocates what is available. Being the United States, you will have a roommate, or in a few cases two roommates, and they are likely to be another exchange student. The majority of the exchanges are in the following two dorms – Village C East and Kennedy Hall. Village C East is unique in that it is the only en-suite dorm, whereas Kennedy is a typical shared arrangement. The exchanges are placed with upperclassmen – junior (third years) and seniors (fourth years). From experience and talking to others, if you are only there for the spring semester, it is harder to make friends with the full time students in your dorm than compared to being there from fall.
I stayed in Village C East, and have had a positive experience, despite it being a bit dated. The rooms on the top floors have gorgeous views of campus, and from a few you can see the Washington Monument in the distance. The cooking facilities are in the common room and are a bit substandard, so if you can see yourself cooking more than eating at the dining hall, it may be worth opting for apartment style accommodation. I bought a fridge so I could have options for breakfast in my dorm, and a few other exchanges have done the same. Very few however opted to cook in the dorms except for breakfast, with the dining hall making things a lot easier. Admittedly, the food isn't fantastic, but it's easy and primarily it's a good social opportunity.
It is also worth noting that Washington, D.C. and particularly Georgetown is one of the most expensive cities in the US, so housing rates are similar to London.
Studying
The biggest thing to consider about Georgetown's academics is the intensive system, with constant assessment throughout the semester. Even though this rigorous system is difficult to acclimatise to at first, it does become routine, and the content is easier, but you have to ensure prioritizing a large amount of your day to make sure you get everything done. If you don't, you suffer falling behind, and in class it is noticeable if you do.
The classes at Georgetown are almost all a mix of lecture and seminar in one, meeting two or three times a week. This is common throughout most departments, and in my classes (Government and Philosophy), we had a mix of teaching and discussion. The professors lecture for most of the class, but they encourage participation, even in classes upwards of 40 students. Class sizes vary too, from just three to four people, or up to 40 (the limit).
Class lengths are not too different, with the majority being being 1 hour 15 minutes, and some being 2-3 hours. The start and finish times are quite diverse however, with some starting as early as 8am, and some finishing at 10pm. When you choose your classes though, you can see the times of the classes and tailor-make a schedule to your liking, so super early or late classes are not a necessity! Most study abroad students take four classes, what King's requires, but it is possible to take five if you want.
The biggest adaption for studies was the amount of work and the resulting assessment. Seeing as classes meet two or three times a week, you often have readings for each of these classes, so it is not uncommon to be given 100-200 pages of articles/chapters per module per week. You are expected to be knowledgeable on these readings, as participation is sometimes a large portion of the grade. One of my classes requires a one-page review of the readings each week, and another has tests each class on what we have read. The main forms of assessment come in the form of midterms (exams) and papers (essays). Most classes have either a combination of midterms and papers with a final. For my situation, as well as regular quizzes and reading reviews, I had two midterms and a final for one class, three mid length papers for two classes, and two long papers for another.
While the amount of work seems daunting, the level of the content is less difficult than King's, so it is easier to do well. Paper titles often encourage independent research, and allow you to choose something you are interested in to write on – provided it is relevant to the class. This does make the amount of work more manageable, and there is always the knowledge that if you mess up one paper or midterm, you have many more opportunities to get your grade up.
It is important to note that the amount of work can be difficult to cope with, and some students (exchange and full-time) often became overwhelmed at times. The library is open 24/7 throughout the semester and it is busy the majority of the time. Professors are aware of the intensity, and because of this they are often flexible with deadlines. The administration is also aware of the workload, encouraging time to relax and unwind, and they also provide an efficient counseling service if needed.
In light of the intensity, the workload is manageable once you get used to it, and it is incredibly rewarding. I would say that it is one of the best parts of the experience, with the professors providing highly engaging and informative classes, the workload forces you to organize yourself and be diligent in how you study. The Georgetown academic experience is certainly unique and a great difference from King's, and provides a new, useful approach to your subject of study.
Weekend Activities
Being Washington D.C., there are enough things to do for each weekend you're here. With Georgetown being a short uber, bus ride or mid length walk to the National Mall, you are never far from museums, galleries and monuments. Within the DC Smithsonian institution alone, there are 17 museums and galleries, as well as the National zoo. 11 of the Smithsonian museums are on the National Mall, including the National Gallery, National Air and Space Museum, National Museum of American History, the Renwick Gallery, and many more. All of the Smithsonian museums are free. There are dozens of other museums around that do require a small fee, but some are well worth visiting – particularly the newly opened Newseum.
20 minutes on the bus, a short jog, or a 45-minute brisk walk gets you to the White House and the monuments themselves, and seeing those goes without saying. As well as seeing them in the winter when it's quieter, the best time to see them is during the National Cherry Blossom festival in March/April. There are hundreds of cherry blossom trees (donated by Japan) that bloom each year, making the whole city beautiful – and particularly the Tidal Basin by the Jefferson Memorial of the mall. The Capitol Building, the Supreme Court and the Library of Congress are at the other end of the mall, furthest from Georgetown. You can get guided tours of the Capitol, too. Walking the entirety of the mall and trying to fit in all the monuments at once is a bit of a trek, so it's best to do separate trips for each part of the mall.
It is possible to get a White House tour – but it's unlikely if you're British. To get a tour you have to coordinate it with your embassy, but the British embassy doesn't offer this. I know from friends that the Australian embassy does! Another thing I recommend is a tour of the Pentagon, which is open to all providing you complete a security check. Nearby the Pentagon is Arlington Cemetery, which is worth the trip over to Virginia.
Washington's location makes it perfect for day trips to nearby cities too, such as Philadelphia, Baltimore, Colonial Williamsburg, and Alexandria – all of which are less 1-2 hours away. At a stretch you could make a day trip to New York, but it's best to make a weekend of it. Also, during the long weekends it's possible to go further afield, and some exchange students went to Boston (by bus – 8 hours) and Chicago (flight – 2 hours).
Reflections
My time abroad at Georgetown has been one of the best experiences of my life. I know it seems that everybody seems to have this sentiment, but it really is one of the best times to have as an undergraduate student. It is one of the best decisions I've made, and if you choose to apply to study at Georgetown – then I can vouch that your experience will be unparalleled.
Being able to have another set of friends and experiences in another city outside of King's is immeasurable, and really throws you out of your comfort zone – in a good way. The Georgetown experience is certainly unique, but you still get to embrace the typical US college experience, red solo cups and all. Whilst the time here has been challenging at times, being able to get through it and having memorable trips throughout the semester really adds to both one's confidence and independence.