Dr Fabio Serenelli was recently appointed as the Head of Instructional Design and Development, the team within King's Online that is responsible for developing online courses with faculties and departments at King's.
Over the past seven years, Dr Serenelli's passion for educational technologies has taken him from his home in Italy where he ran his own business, to South America, Malaysia and finally to the United Kingdom where he undertook research in e-learning, before settling into his role at King's earlier this year.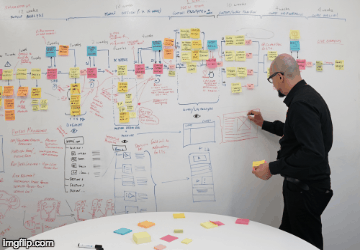 Dr Fabio Serenelli, with his beloved sticky notes:
"I love sticky notes as they are probably the most effective way to visualise complex structures: they are perfect for brainstorming, card sorting, information architecture, etc."
How did you become interested in online learning?
For my whole life I have been interested in computers and technology, and later in life became interested in education; I studied my Master's in Educational Sciences, with a focus on adult training. I had the idea to bridge my passion for education and technology, and I pursued a career in e-learning.
What actually is 'instructional design' anyway?
Instructional design is a learner-centred discipline that sits somewhere between science and arts. It aims to systematically produce effective, efficient and engaging learning experiences. 
Tell us about the Instructional Design and Development team:
We are fortunate to have the flexibility and the dynamism of a startup-like unit, while working within the solid parameters of King's College London. We've gone through a period of rapid growth and change recently, having doubled in size. In terms of skills, we are bringing in experts from fields not strictly related to e-learning, like web design and development, cinema and motion graphics.
Tell us something nobody knows about you, not even your team:

Well, I can (or I could?) hold my breath for more than five minutes. Can you do that? : )
What is your favourite holiday destination?
In the past I spent quite long periods backpacking around the world but since I started working abroad, I prefer to spend my summer holidays in my country, ideally – as I love free-diving – in Sardinia.