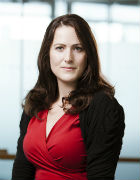 This interview refers to student activities set up by Dr. Rosie Wyles for module 5AACGT03 Lucian, for Semester 1 of academic year 12-13.
Q: What TEL (Technology Enhanced Learning) tools and activities did your students engage with this semester?
A: In the final week of the course, I recorded student presentations of about 10 minutes on a flip camera. 
Q: What best practices/recommendations/ suggestions can you share with your colleagues regarding the TEL tools you used?
A: The rationale for recording the presentations was that they would make a good revision tool for the students especially since the exam for the module would be in May – five months after they had been studying the text. The second reason was so that the students would be able to listen properly to the presentation (rather than worrying about taking notes) since they knew they would have an on-line recording to look back over. This was particularly important for giving the speaker a proper audience so that it would be the best environment possible in which to develop presentation skills. It was also particularly important to provide a means for the students to be able to look back over this material and to consolidate it since each had chosen to investigate different questions about the text so the material/arguments were all new.
The video files produced were quite big and required transferring on a computer immediately so that there was enough memory on the flip camera for all of the talks. This also meant that I needed to get support for compressing them and uploading to Keats. In future I might record using pod-casting equipment since this would be less obtrusive (the students were slightly self-conscious about being video-recorded) and would produce smaller files that could be listened to while students are on-the-go.
This worked well with a small group but might be more difficult to achieve in a bigger module?
Q: What was the positive/negative feedback from the students regarding the aforementioned TEL tools?
A: Students were slightly nervous around the camera, but I also think that it created some pressure (as they might face in the professional world) and they all rose to the challenge. I think they will be very happy to find the videos on KEATS when they are revising. It is also a nice souvenir of the class! In general they find it very helpful to be able to access materials through KEATS.
Q: What TEL tools and activities will you be using (or would like to use) next semester?
I'm hoping to include a digital tool, videos and pod-casts in my College Teaching Fund application for my proposed 'Learning about Ancient Theatre from Artefacts' project in the Classics department next year.